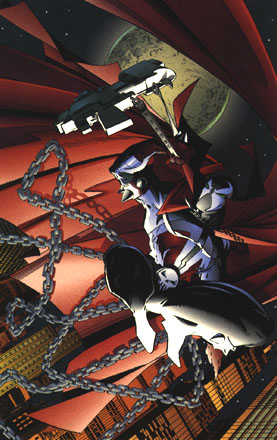 Ahhhhhhhhhhhh What to Say...Spawn, The ultimate fight between being good and evil, in oneself. Created by Malebosia for one last look at his wife Wanda, Al Simmons is now a machine of wanton destruction, capable of orgys of chaos and violence that would make even the sickest psychopath proud. But Al dosent want what he is, he didnt realise the deal he made when he did, and all he wants now is to be with Wanda.

Based on the comic and world of Todd McFarlane, Spawn is one of the most popular comics today. If i have to explain any more of this your so fucking in the dark about my lifestyle that its problably not worth my time. Just go Here or Here instead.

Now Spawn does Mindless things in a plot less ordinary. His counter counts down and he gets closer and closer to oblivion every day. Origionally it was a cool comic and i love the concept, the art, the heros and the villans. Spawn is one of my influences because its not your typical comic. The good guys and bad guys are sometimes one in the same, changing roles, there is no good or bad, just right and wrong determined by how selfish a character is at the time.